Introduction:
The DS1213D IC Smart Socket is a 32-pin, 600 mil DIP sockets with a built-in CMOS controller circuit and an embedded lithium energy source. It accepts 32Kilo x 8 or 128Kilo x 8 JEDEC byte-wide CMOS static RAM. When the Smart Socket is mated with a CMOS RAM, it provides a complete solution to problems associated with memory volatility. The Smart Socket monitors incoming VCC Power Supply for an out-of-tolerance condition. Using the Smart Socket saves printed circuit board space since the SRAM/Smart Socket combination occupies no more area than the SRAM alone. The Smart Socket uses only 22, 30 and 32 pins for RAM control. All other pins are passed straight through.
Some Core Parameters:
SPECIAL FEATURES :
● Accepts standard 32Kilo x 8 or 128Kilo x 8 CMOS Static RAMs
● Embedded lithium energy cell retains RAM all data
● Self-contained circuitry safeguards data
● IC socket permits upgrading from 32Kilo x 8 to 128Kilo x 8 RAM
● Proven gas-tight socket contacts
● Operating temperature range 0℃ to 70℃
How it Uses in the work:
DS1213D Pinout Connections: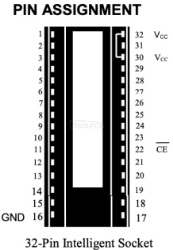 DS1213D Pin Functions:
● CE - Conditioned Chip Enable
● VCC - Switched VCC
● GND - Ground
● All pins pass through except 22, 30 and 32.