Introduce this Module:
The 555 timer IC was introduced in the year 1970 by Signetic Corporation and gave the name NE 555 timer. It is in a single 8 pin. Apart from its applications as a monostable multivibrator and A stable Multivibrator, DC-DC Converters, digital logic probes, waveform generators, analog frequency meters measurement, temperature control, volt regulators, etc.
Some Core Parameters of the Module:
SPECIAL FEATURES :
● High Current Drive Capability (200mA)
● Adjustable Duty Cycle
● Temperature Stability of 0.005%/℃
● Timing From μSec to Hours
● Turn off Time Less Than 2μSec
How it Uses in the work: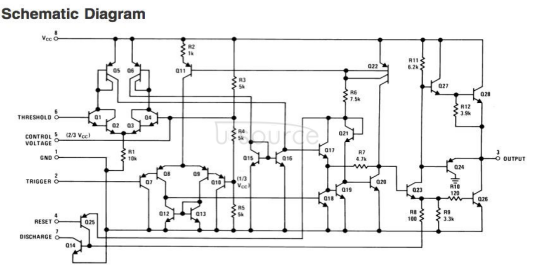 Internal Block Diagram: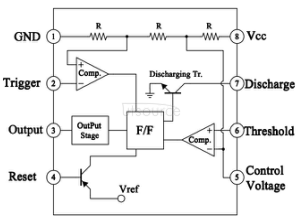 NE555 Pinout Connections:
● Pin 1 - Ground (GND) This pin is connected to the circuit ground.
● Pin 2 - Trigger (TRI) Active low trigger input that starts the timer.
● Pin 3 - Output (O/P) Timer output pin.
● Pin 4 - Reset (RES) A low voltage (less than 0.7V) the reset pin will cause the output pin to go low. This input should remain connected to Power Supply when not used.
● Pin 5 - Control voltage (CON): Used to adj the threshold voltage if required. This should be left dis-connected if the function is not required. A 0.01uF Capacitor to Ground can be used in electrically noisy circuits.
● Pin 6 - Threshold (TRE) In both a stable and monostable mode the voltage across the timing capacitor is monitored through the Threshold input. When the voltage at this input rises above the threshold value the output will go from 1 to 0.
● Pin 7 – Discharge (DIS) Output pin that is used to discharge the timing capacitor.
● Pin 8 – Supply voltage (VCC) A positive supply voltage terminal. The supply voltage range is usually between +5V to +15V.