Introduction:
The Integrated Circuit Chip ICE3BR1765J is the best jilter series IC, the main target of these IC is off-line battery adapters and the low cost SMPS for low power range electronic range of applications like DVD, CD, Blue Ray DVD Player, Antennas, Set-top box etc. this IC technology comes with a burst mode and auto self-restart auto protection and propagation delay frequency compensation. It also comes with an additional features like soft start line, blanking window, soft gate driving etc.
Additional capacitor and other auto restart options of the IC makes it more efficient and workable in different sets of conditions. External auto restart option is also available for extra protection and immediate power speed switching.
Circuit diagram and Pinout Configuration of ICE3BR1765J: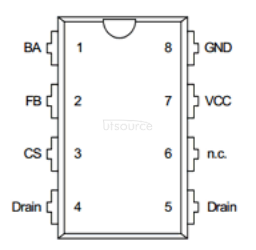 The pinout configuration of the IC ICE3BR1765J is
| | | |
| --- | --- | --- |
| Pin number | Pin name | Pin description |
| Pin 1 | BA | This pin is for blanking and auto restart |
| Pin 2 | FB | The pin 2 is for feedback |
| Pin 3 | CS | The pin 3 is for current sense |
| Pin 4 | DRAIN | This is the drain pin |
| Pin 5 | DRAIN | This is also a drain |
| Pin 6 | NC | Not connected pin |
| Pin 7 | Vcc | Power supply controller voltage |
| Pin 8 | Gnd | Controller ground voltage |
Key Features of IC ICE3BR1765J:
● It has a peak current control mode
● Protected with a enhanced integrated technology
● Switching frequency is 65KHz low EMI jitter
● The accurate peak power limitation capability
● It is having auto restart, enable pin, drain pin etc.
● Consumes extremely low power standby
● Very accurate power control and have low noise EMI etc.
Applications of ICE3BR1765J:
As shown in the figure the repairing of set-top box, this IC is used extensively in many electronic applications.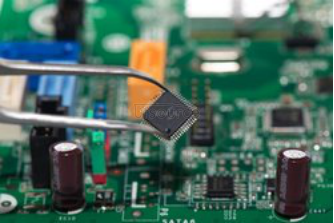 ICE3BR1765J set-top box application
● Applications in Blu-ray electronic devices
● DVD and CD players applications
● Used in set-top box and gaming search consoles
● Chargers and auxiliary high power systems like LED TV, speakers, Home Gateway etc.